Widex MOMENT 220 mRIC is the smallest lithium-ion rechargeable hearing aid on the market.


Description
Widex MOMENT 220 mRIC Rechargeable Hearing Aid
Newest hearing aid family. Widex MOMENT 220 Receiver-In-Canal (mini-RIC) mRIC hearing aid, available from Soundak for only $1,487 ea. Free LIFETIME remote support & sound adjustments included. 3-year manufacturer warranty. 3-year loss and damage coverage.

Hear the moment with pure, natural sound
Live in the moment with lithium-ion rechargeability and Bluetooth connectivity
Be in the moment with AI-powered personalization and data-driven evolution
TeleHealth Hearing Services available via Soundak & Widex Remote Care App.
The Widex MOMENT 220 mRIC Rechargeable hearing aid is among Widex's newest family of hearing aids and is based on their new MOMENT platform, with PureSound and ZeroDelay technology. The Widex MOMENT 220 uses TrueAccoustics technology. TrueAccoustics overcomes the challenges of fitting open/vented receivers for mild to moderate hearing losses.
The Widex MOMENT 220 mRIC Rechargeable hearing aid is in Widex's newest family of hearing aids and is based on their new MOMENT platform, with PureSound and ZeroDelay technology. The Widex MOMENT 220 uses TrueAccoustics technology. TrueAccoustics overcomes the challenges of fitting open/vented receivers for mild to moderate hearing losses.The Widex Moment 220 is also one of the newest lithium-Ion rechargeable hearing aid offerings in the industry. The Widex MOMENT 220 hearing aids offers a full range of hearing solutions utilizing the most advanced digital hearing technologies. This hearing aid includes Artificial Intelligence and Machine Learning technologies. This hearing aid is considered "Made for iPhone" and "Made for Android". 
The Widex MOMENT 220 continues the era of intelligent hearing. Machine Learning provides for the future update of algorithm improvements to be able to be downloaded into your existing hearing aids. Widex MOMENT 220 hearing aids will evolve and improve over time. MOMENT not only learns from you, but everyone around the world who uses them.
THIS SOUND CHANGES EVERYTHING
ALL HEARING AIDS WILL BE COMPARED TO THIS ONE
Meet the first hearing aid that doesn't sound like a hearing aid.
By changing the paradigm of sound with a revolutionary platform, Widex MOMENT 220 delivers the most pure, natural sound ever. Typically, sound processed in a hearing aid hits the eardrum later than direct sound, causing artifacts. But now you can hear like never before. From the very first Moment.
With the new Widex MOMENT 220 hearing aids, Widex has achieved this goal. they have created a revolutionary way to process sound – an industry-defining, ultra-fast signal pathway that eradicates the inherent artifacts in classic hearing solutions. Widex calls this new hearing experience PureSound powered by ZeroDelay technology.
SMALLEST RECHARGEABLE
HEARING AID EVER
Widex managed to fit all the benefits of the Widex MOMENT 220 mRIC into the smallest rechargeable lithium-ion receiver-in-canal hearing aid on the market.
 You can rest easy knowing you'll always have the power you need in a discreet hearing solution. Plus, you'll never have to struggle with changing hearing aid batteries.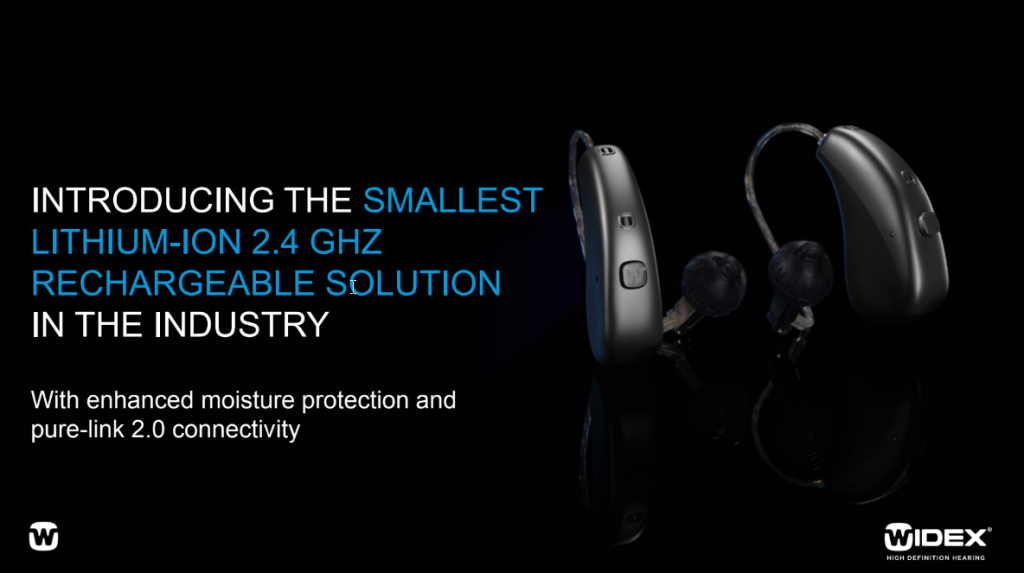 OUR BEST MOISTURE PROTECTION YET
Advanced water-resistant nano coating reduces the risk of moisture damage in all of our Receiver-In-Canal (RIC) hearing aids.
No battery door in the rechargeable Widex Moment 220 RIC also means fewer gaps for moisture entry. The rechargeable's more durable mic, new mic inlet design, connector o-ring and wireless charging are also crafted to improve moisture resistance.
A BREAKTHROUGH
EVERYONE CAN HEAR
Thanks to the ultra fast ZeroDelay pathway on the Widex MOMENT 220 platform, PureSound makes a real, audible difference to users. Research shows that a large majority of both new and experienced users prefer PureSound across different sound and listening environments.
Widex Moment 220 mRIC Rechargeable Hearing Aid Features:
Made for iPhone
Android smartphone compatible (For specific models)
Wind Noise Suppression
High-Frequency Boost: Provides better understanding while ensuring comfort
Sound Class Technology: Automatically adjusts to 7 different sound environments
SoundSense Learn: Machine learning provides an ever-improving hearing experience
SoundSense Adapt: Remembers wearers preferred settings across multiple sound classes
10 Channel Processing
Direct Audio Streaming
Stream in Stereo from iPhone
Up to 3 preset sound programs
High Definition Locator
Automatic Adaptive Directionality
Speech Enhancer
Multi-directional Feedback Cancelling
Zen & Zen+
Variable Speed Compression
True-Input Technology
Soft Noise Level Reductio
Audibility Extender
Hammer Detector
SmartSpeak & SmartTone
2.4 GHz Bluetooth connectivity
Smartphone App allows for direct streaming of audio
Compatible with DEX accessories
Uses M, or P receiver
Powered by Lithium-Ion rechargeable hearing aid battery
Protection class IP68
Fits Mild to Severe hearing losses
TruSound Softener
Reverse focus program


Widex Moment 220 mRIC Hearing Aid Colors (Not all colors available yet.)
Not All Colors Are Currently Available At Product Launch.
SoundSense Learn

SoundSense Learn uses real-time machine learning to intuitively guide users toward a more personalized sound. With just a few taps in a smartphone app, you can decide how you want to hear. Tests show that the new MOMENT app interface gives an improved user experience.
TeleHealth Hearing Via Remote Care
TeleHealth Hearing Services provided via Soundak & REMOTE CARE. Remote Care allows us to remotely test hearing (In-Situ), fit, program, fine-tune, and diagnose our clients' hearing aids remotely without compromise. Because all the data shared via Real-Life Insights is also available within REMOTE CARE, we can provide remote sound adjustments based on your actual hearing challenges, wherever you are in the world.

Widex Moment 220 mRIC Hearing Aids
Evolve Over Time To Keep Getting Smarter
All hearing aids automatically make assumptions about how to make you hear better. Most of the time they get it right, but occasionally in specific sound environments, they don't. Typically, when in those sound environments where the hearing aids aren't sounding the way you want, the user would normally make a small manual adjustment to the sound settings.
Widex has developed a new technology called SoundSense Learn. SoundSense Learn provides that as you use your Widex MOMENT 220 hearing aids, their functionality evolves. As you and all the others around the world personalize listening experiences and preferences, Moment learns from different sound situations and your inputs. Widex uses this aggregated anonymous data from the changes you and everybody else made to create a better listening experience for all. That means that the hearing aids you buy today will be better tomorrow.
SoundSense Learn was developed to help hearing aid wearers hear how they want to hear. SoundSense allows the wearer more control of how they hear at that specific moment, using a simple smartphone interface. SoundSense Learn helps the wearer control how they hear by simply presenting comparative sound options via a smartphone app.
This easy-to-use smartphone app guides the wearer to better hearing by using A/B comparisons. The wearer listens to the A/B comparisons of the environment that they are in, through their hearing aids. The wearer simply selects either A or B, whichever sounds better. It is as easy as that. The automatic machine learning algorithm takes care of the rest.

NATURAL SOUND POWERED BY ARTIFICIAL INTELLIGENCE
Widex strives to deliver a truly natural better-hearing experience to every client, regardless of hearing loss, hearing aid selection, or personal listening preference. In order to deliver sound as individual as this, Widex created the worlds only hearing aid that can learn how an individual user wants to hear in the moment.
The Widex AI engine analyzes the wearer's preferences derived via the SoundSense Learn app and quickly presents the tailor-made sound that the wearer is looking for. To date, SoundSense Learn has created almost a million personal sound solutions for users around the world – each one making the AI engine more perceptive than ever before, leading to better "Real World" hearing solutions for every Widex Moment 220 hearing aid user.

Hearing Aids With and Without SoundSense Learn Comparison
In a comparative study of hearing aid users, 89% of test participants reported significantly better sound quality and hearing using the settings achieved utilizing the SoundSense Learn protocol. The test participants were also consistently happier with the sound comfort that SoundSense Learn provided.
Sound Class Technology
Widex Moment 220 mRIC uses the latest MOMENT Platform microprocessor and processes sound across 10 separate channels. Unique to Widex is "Sound Class Technology", the hearing aid constantly monitors and automatically identifies what kind of sound environment you are in. It then automatically adjusts its sound settings to maximize your ability to understand speech. The Widex Moment 220 hearing aid offers 4 distinct sound settings.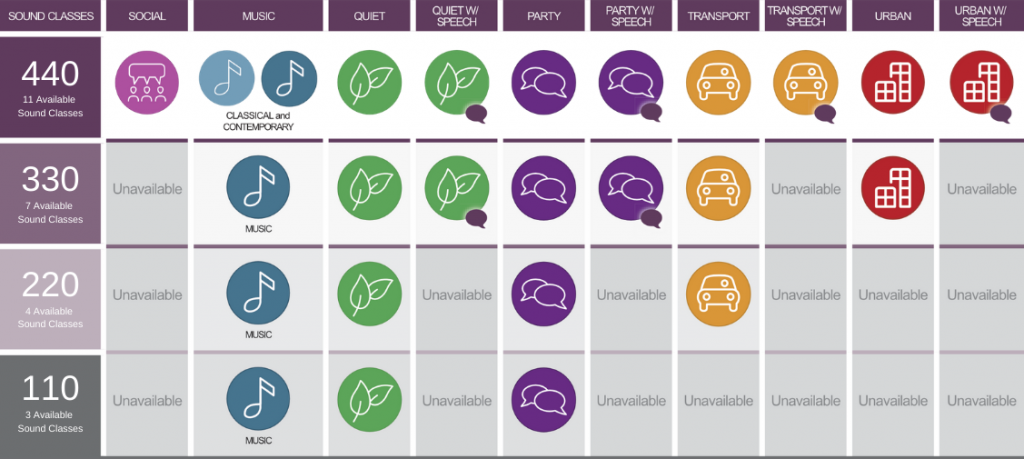 InterEar (IE) Technology
Allowing both hearing aids to act as one system is referred to as InterEar (IE) technology. IE technology provides for instantaneous exchange of data between Widex Moment 220 hearing aids. Both hearing aids act in concert with each other for noise reduction, compression, and directionality functions. IE technology allows Moment to enhance hearing effectiveness and deliver a natural hearing experience to the wearer. The preservation of minute differences in sound presented to our brain helps provide a superior spatial awareness.
Zen Tinnitus Management
Widex hearing aids have a tinnitus desensitization feature called Zen. Zen is a proprietary technology. Zen helps reduce or desensitize the wearer to the effects of tinnitus. The hearing aids present predictable non-repetitive sounds to the wearer. Zen should be used in conjunction with professional tinnitus management counseling.
2.4 Ghz Connectivity
This 2.4 GHz hearing aid is ready for direct streaming from iOS and DEX Accessories via the MOMENT app. It's also prepared for future connections with Android.

Widex "DEX" Accessories
MOMENT APP
Connect your hearing aids to your smartphone and stream sound or control hearing aid functions. The MOMENT hearing aid app works with Android and Apple devices. Check the compatibility list for supported models.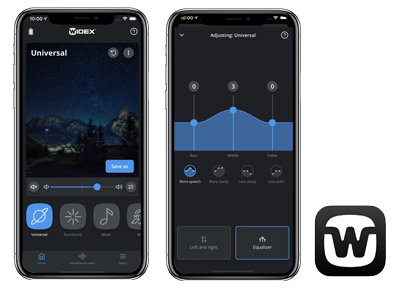 What you can do with the MOMENT App:
Create your own personalized hearing programs or let the hearing aids automatically adapt themselves
Add locations to sound programs for automatic selection based on where you go
Adjust volume, mute, control streaming
Adjust the directional focus to hear what you want and reduce background noise
Access SoundSense Learn to let MOMENT personalize your hearing in real time
Adjust the bass, mid or treble levels using the equalizer
Access the "Find my hearing aid" feature to help locate your missing or misplaced hearing aids.
TV Play
Widex MOMENT 220 Receiver-In-Canal (RIC) mRIC R D (2.4 GHz) hearing aids work in perfect unison with TV Play, the most versatile, stable, and straightforward sound streaming solution yet.

Maximum streaming stability lets users move freely around the room without missing a second of the outstanding stereo TV sound the TV Play delivers.
An elegant and versatile TV sound-streaming solution that integrates nicely with modern decor and can be placed in front of or attached to the back of a TV.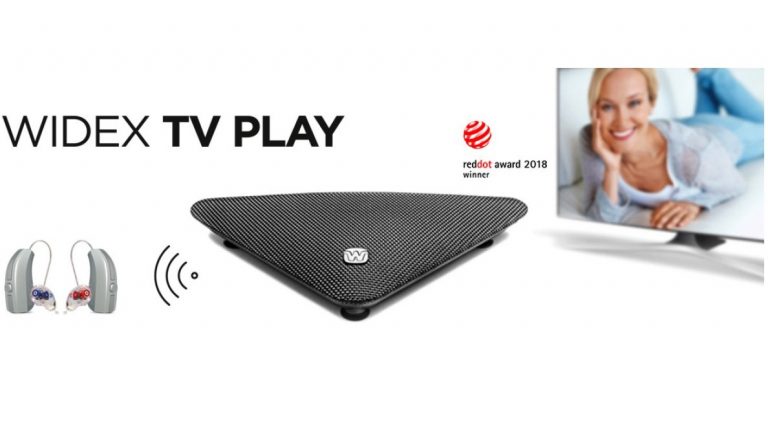 Easy to install and seamless to pair, users can easily control the TV Play with the button on their hearing aid, the RC-Dex, or customize their listening experience with the MOMENT Smartphone App.
RC-Dex Hearing Aid Remote Control
RC-DEX is a basic wireless remote control for Widex hearing aids. RC-Dex offers simple and discreet adjustability of volume and between programs.

Works well with Widex Moment 220 Hearing aids
Stylish and easy to use
Discreet – You don't need to touch your hearing aids for adjustments
Verbal cue confirmation
Fits on your keychain
A lock switch prevents accidental activation
SMALL ENOUGH TO FIT IN YOUR POCKET ON A KEY-CHAIN
RC-DEX is brilliantly designed with only three simple keys and small enough to fit in your pocket or on a key-chain. As features are activated, the wearer hears verbal cues thru the hearing aids. An LED indicator light also lights up when activated. For more information or to buy RC-DEX, CLICK HERE.
Phone-Dex 2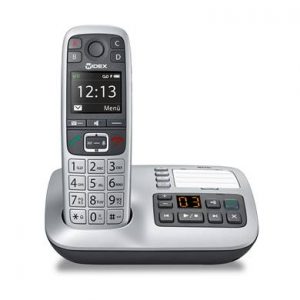 Home phone calls stream directly to your hearing aids
Phone-Dex 2's memory can store up to 150 contacts. The base station also acts as a charger. Users enjoy 14 hours of talk and 320 hours of standby time. The handset reliably works up to 160 ft from the base station. PHONE-DEX 2 is compatible with Widex MOMENT 220 Hearing Aids.
For more information or to Buy Phone-Dex 2, CLICK HERE.
HEARING ON THE PHONE IS NOW EASIER THAN EVER WITH PHONE-DEX 2
The Phone-Dex 2 is an all-purpose cordless telephone for use with Widex hearing aids.
A phone for hearing aid wearers or the whole family
Phone-Dex 2 has a large color display and is incredibly easy to use. This phone is used, operated and held just like any normal telephone. Friends and family can use the phone as normal. Phone-Dex 2 also includes an integrated answering machine.
Features:

Direct communication to both hearing aids
Emergency button
A mailbox with 25-minute recording capacity
150 contacts directory
Call signal LED light
Alarm
Large color screen
14 hr talk & 320 hr standby time
160 feet range from base
PHONE-DEX 2 is compatible with Widex MOMENT 220 Hearing Aids.
Widex Offers Five Different Comfortable "Instant Tips"
For All Types Of Hearing Loss

<--- Less Occluding to More Occluding ---> 
Widex MOMENT 220 mRIC Product Summary
The Widex Moment 220 mRIC is the perfect blend of functionality and budget awareness. Widex Moment 220 312D has the latest Moment chip at it's heart. This new chip brings TruAcoustics program, as well as the PureSound and ZeroDelay technology. It also comes with SoundSense Adapt which learns user preferences over time
Soundak Remote Programmable & Adjustments, Anywhere In The World. (TeleHealth Hearing Care).
4 sound classes – Provides for accurate sound processing and a more precise hearing experience
10 channels for processing and fine tuning – Provides more options for personalized sound processing catering to wearer preferences and individual hearing needs.
WidexLink wireless connectivity – Fast, echo-free transmission of sound between hearing devices for binaural coordination and to DEX accessories for streaming a variety of signals.
SoundSense Learn – Machine learning algorithm to effortlessly guide the wearer's to a better, more personalized hearing experience.
SoundSense Adapt – Adaptive learning to gradually remember the wearers preferred settings across multiple parameters for each sound class environment, resulting in better sound.
Fluid Sound Controller – Adjustment of more parameters in every sound class and in real time for a more natural sound.
Programs – Wide range of listening programs for specific and challenging situations.
Speech Enhancer (RT/IE) – Reduces noise and enhances speech in real time in response to individual sound situations and hearing loss.
Fluid Sound Analyzer (4 Sound Classes) – Intuitive analysis of the sound environment in order to prioritize and select the most important sound sources.
HD Locator – Better speech intelligibility in noise with channel-specific directionality for speech emphasis.
TruSound Softener – Preserves comfort for sudden sounds at any input level by taking the edge off impact/impulse sounds.
Soft-Level Noise Reduction – Unwanted soft background noises are reduced for greater listening comfort.
Noise Reduction – Listening comfort in noise while maintaining speech.
ZEN IE – A tinnitus management tool for reducing the effects of tinnitus, using soothing tones and/or noise; additional programs are available with ZEN+ app.
Audibility Extender – Improves perception and production of important high-frequency speech sounds, ideal for more significant high frequency hearing losses.
Variable Speed Compression – Automatic gearing for smooth sound and stable audibility in each individual sound class.
MOMENT App – Easy connection and control from most smartphones. This is the preferred, full-featured app.
ToneLink App – Easy connection and control from most smartphones. This is the lighter remote control app.
NanoCare Wax Guards
NanoCare Hearing Aid Wax Guards provide resistance to cerumen (earwax) and moisture issues while actively preventing other materials from entering the receiver (speaker) and safeguarding the sound path.
NanoCare Hearing Aid Wax Guards provide enhanced performance, fewer repair issues, longer hearing aid life and increased user satisfaction.