ReSound Remote Control 2 allows you to adjust the volume of your ReSound hearing aids as well as change between hearing programs.
The ReSound Unite Remote Control 2 is a wireless accessory from GN ReSound that can control the volume level and change program on your hearing aids.
Remote Control 2 allows the user to control ReSound wireless hearing instrument remotely.

Easily and discreetly allows users to change programs, adjust volume and control streaming for your hearing aids
High contrast LCD display clearly shows hearing aid settings at a glance
Ability to adjust hearing aid volume and streamed sound independently
Features a lock key to avoid accidental button activation when put into a purse or pocket
Going out
Sitting in the car with the window open? Turn down the volume of both hearing aids or the hearing aid nearest the window to minimize wind and traffic noise.
Going into a business meeting? Easily switch to your preferred program for this specific environment.
Waiting in-store for your partner to finish their shopping? Relax, sit down and mute your hearing aids to take a break from the loud background noise.
Control your ReSound hearing aids
The ReSound ReSound Remote Control 2 is one piece in the full ReSound Ecosystem of accessories and apps which enhance your ReSound Smart Hearing experience.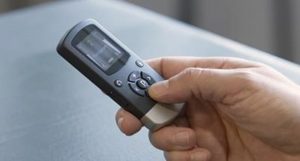 Discreet control
You might feel like you are fumbling when you use hearing aid buttons to toggle through programs and volume. The buttons on the ReSound Remote Control 2 are larger and easy to navigate.
The ReSound Remote Control 2 is discreet. It can easily be kept in your pocket or purse.
The Remote Control 2 provides for the the adjustment of the volume both monaurally and binaurally. When in streaming mode, you  can individually adjust volume of the hearing instrument vs.streamed audio volume. The Remote Control 2 has a high contrast LCD display so you can clearly see instrument settings at a glance. With the simple keypad, it's easy to choose
programs, control volume, and mute hearing instruments. The elegant look and small, handy feel of the Remote Control 2 makes it a pleasure to stay in control.

Easy to connect to you Resound hearing aids
To pair: just press the pairing button on the Remote Control 2 and open and close the battery door of the hearing instruments within 20 seconds
Pairing can also be done through the ReSound Professional fitting software
Easy to use
• At the push of a button you can control volume, mute/unmute, and change       programs
• Volume can be adjusted monaurally as well as binaurally
• 'Home' button lets you return to your default settings
• The 'Streaming' button activates streaming from your TV Streamer 2 or Mini Microphone (optional streaming devices)
• Rechargeable with battery status indicator
• Mechanical ON/OFF switch to avoid unintentional activation
2.4 GHz wireless Technology
• A smart, robust, and reliable standard that has a strong, clear, and stable signal