Small, discreet fashionable design
iPhone hearing aid allows for direct streaming
On-the-go charger included (at no additional charge)
Highest performance level Styletto
45-day 100% money-back guarantee
3-year warranty
Soundak Tele-Hearing Care available (remote adjustments)
Description
Styletto Connect Nx 3 transforms the image of hearing aids from necessary medical devices to highly sophisticated hear-wear.
The world's first SLIM-RIC (Receiver-In-Canal) hearing aid combines style with convenient on-the-go rechargeability and high-tech hearing, powered by the Signia Nx platform.
Combined with Bluetooth connectivity and renowned Signia Nx technology with Own Voice Processing (OVP) for the highest levels of user satisfaction.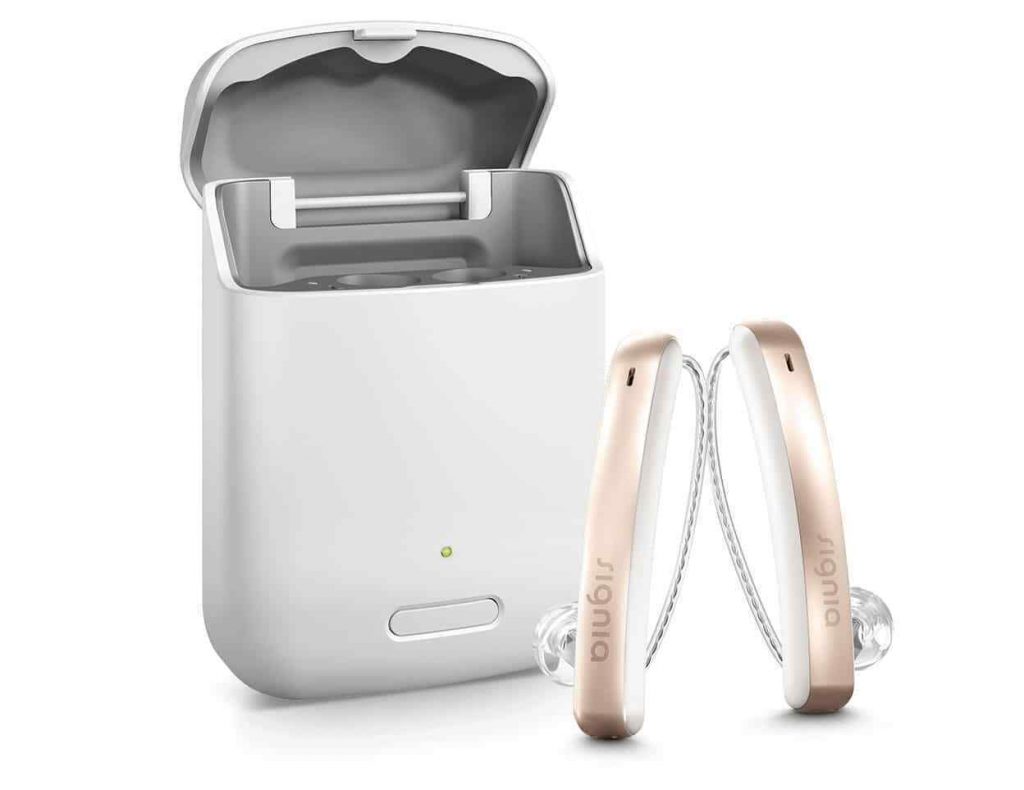 Ultra HD e2e provides Narrow Directionality for better than normal hearing, even in challenging listening environments. Twin Phone technology provides the utmost clarity and understanding of speech during phone conversations.
TeleLink provides discreet remote control options via the smartphone touchControl App or the miniPocket remote control, making it easy to adjust hearing aids in any situation. And TeleCare allows us to track your progress and assist with remote sound adjustments.
Style & Uncompromising Hearing Performance
With Styletto, you have a unique hearing aid that combines:

Exceptional style
Portable rechargeability
A natural hearing experience
Consumer Study
Consumer studies with 500 people with hearing loss that confirmed Styletto is the solution that users prefer and remember. In fact, Styletto is the preferred choice of 8 out of 10 people (Source – Signia Consumer Study 2018).
Available in three contemporary color combinations:
Black / Silver
Cosmic Blue / Rose Gold
Snow White / Rose Gold.
All Signia Styletto hearing aids come with a pocket-sized portable charging case that provides a full day of battery charge with enough power to allow for up to 5 hours of direct streaming.
A 3 hour charge results in up to 19 hours of daily use. A 30-minute fast charge provides an additional 5 hours of use – or 3 hours of streaming – for complete flexibility on the go.
The Styletto charger is three times smaller and half the weight of comparable chargers, it is the only charger that you can fit in your pocket to carry with you all day. Thanks to its unique charger, Styletto Connect delivers an astounding four days* of user autonomy, free from plugs or cables – perfect for a relaxing weekend getaway or an important business trip.
* Four days assumes 16 hours of use per day.

Styletto is available in all three performance levels, 7, 5, & 3
Requires user to have both left & right hearing aids. The touchControl App is available as a free download for both iOS and Android devices via the App Store or Google Play