-->
It charges two hearing aids fully within 3 hours
It is intuitive, with 5 LED lights that display the battery level of the hearing aids and 3 LED lights on the back that display the power remaining on the charger
The charging case has capacity for 3 full hearing aid charges after a full charge
ReSound LiNX Quattro Charging Case
The ReSound LiNX Quattro Charging Case is an expertly-designed portable hearing aid charger designed for ReSound LiNX Quattro Lithium-Ion Rechargeable Hearing Aids (RIE 61 DRWC).
The ReSound LiNX Quattro Charging Case provides ReSound LiNX Quattro hearing aid users with a complete rechargeable hearing aid solution. This solid, durable, and reliable hearing aid charger is sleek and compact in design for easy transport and discreet use.

The world's most advanced rechargeable hearing aid solution
With a completely sealed lithium-ion battery, a small, discreet size and long-lasting battery power, with a single charge you can rely on your ReSound LiNX Quattro Charging Case to keep your hearing aids charged for up to 30 hours.
24 hours of battery life with up to 12 hours of streaming time
Ability to check battery status on the Smart 3D app
Quick 30-minute charge delivers 8 hours of battery
Power you can rely on, ANYWHERE
ReSound LiNX Quattro offers a complete rechargeable hearing solution. Every feature is intuitive and designed to make life easier, with the energy to keep people on top form.
To use, place your rechargeable hearing aids in the portable charging case before bed and their ReSound LiNX Quattro Rechargeable hearing aids are ready in the morning. If you forget to charge at night, the portable charging case holds an additional three full charges, so you'll have the freedom to charge your hearing aids anywhere.
Longest-lasting ReSound hearing aid

For all day performance, you can rely on the ReSound Lithium-ion hearing aid battery rechargeable solution. In only three hours you can fully charge your ReSound hearing aid batteries which gives you 30 hours of  hearing aid operation.
When streaming TV or music 50% of the time, you can still expect 24 hours of operation.

ReSound LiNX Quattro Charging Case
Sleek – Robust – Easy To Use
This new hearing aid charger is expertly designed specifically to the ReSound Quattro Receiver-In-Ear (RIE) rechargeable hearing aids. The charger easily slips into your pocket, handbag, luggage or vehicle glove box.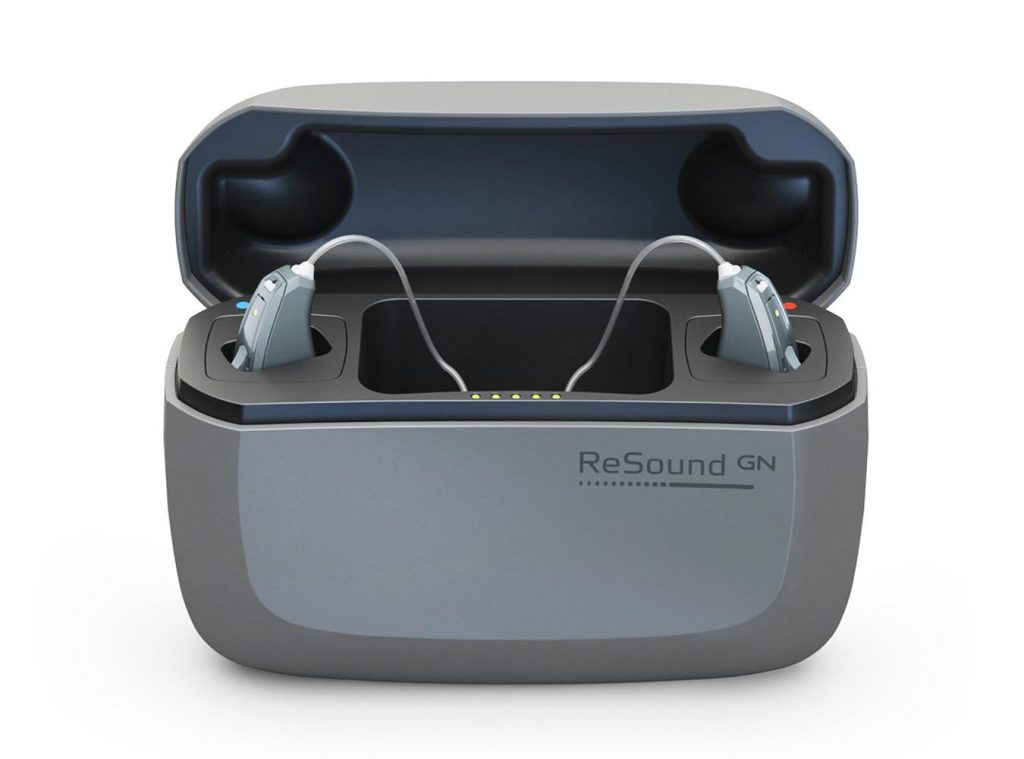 90% of ReSound LiNX Quattro Charging Case users surveyed state that they can use this rechargeable system without instructions.
Source: Groth, 2018
Place your aids in the ReSound LiNX Quattro Hearing Aid Charging Case,
LED lights indicate the battery status of both the hearing aids and the portable charging case.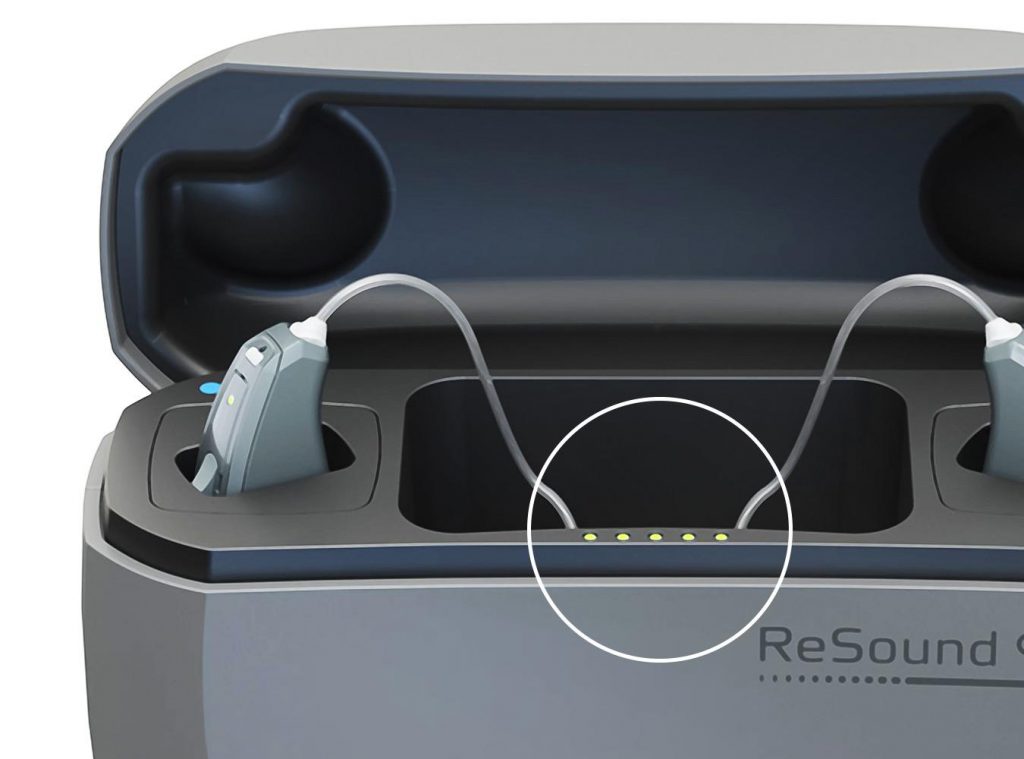 ReSound Smart 3D app
Keeps track of your hearing aid battery power
Monitor the battery status using the ReSound Smart 3D app. The smartphone app will notify you when the battery is getting low. While charging, the app tracks the charging progress and lets you know when your hearing aids are ready for wear.
ReSound LiNX Quattro Hearing Aid Charging Case Technology
In the modern world where almost every piece of technology is accompanied by a charger, it's only natural that hearing aids have become rechargeable also. Just like you would charge your smartphone overnight, the same goes for rechargeable digital hearing aids, so you'll never have to miss a special moment because a battery needs to be changed.
While rechargeable hearing aids have been available for some time, they weren't popular because of their low power output. Thanks to advancements in hearing aid technology, today's best rechargeable hearing aids give you power that lasts longer than a full day.
Traditionally, the rechargeable hearing aid batteries were produced with Nickel metal hydride (NiMH). Now, the best rechargeable hearing aids use Lithium-Ion battery technology, which has completely changed the performance of rechargeable digital hearing aids.
Utilizing the latest rechargeable battery technology, ReSound LiNX Quattro hearing aids are the best ReSound rechargeable hearing aids, allowing you the freedom to experience high quality sound correction without the fear of prematurely losing power, or the need of carrying spare hearing aid batteries.

ReSound LiNX Quattro Hearing Aid Charging Case Technology Summary
Rechargeability for advanced hearing aids is enabled by the use of medical grade Li-ion batteries that are sealed in hearing aids. This technology offers multiple user benefits and excellent hearing aid battery performance. Furthermore, it provides better protection of vulnerable electronic parts and contacts in the hearing aids. Because of smart battery technology, users get feedback on battery and charging status from the charger, hearing aids, and the ReSound Smart 3D app for iOS and Android smartphones. The rechargeable ReSound LiNX Quattro hearing aids and the ReSound LiNX Quattro Charging Case have been very positively 
reviewed by users
. Both in terms of battery life, as well as the functionality of the complete rechargeable hearing aid system.